Fishing for souls.
That is a primary component of Jesus' earthly ministry, His example to His followers who need to be working to win souls for Him.
I want to take a look at a key passage of Scripture today and try to see this well-known story through Jesus' eyes. The passage is
John 4:1-14 where Jesus meets the woman at the well.
I believe all of us can learn from the example that Jesus provides here. You see, this was not a random encounter, but rather an intentional meeting that carries a powerful message for His followers today.
Dr. David Wheeler, director of the Center for Ministry Training at Liberty University and Liberty Baptist Theological Seminary, tells me that, at the time of this passage's writing, a Jewish man would not even think of going through Samaria because the Samaritans were a despised people. He would probably travel an entire day to go around Samaria.
In fact, the disciples did not want Jesus to stop there because they saw the Samaritans as half-breeds that inner-married, which was seen as compromising the Jewish faith. Well, the disciples were about to learn a very important lesson.
Jesus went into Samaria with a specific intention. What was it?
"Make no mistake," says Dr. Wheeler. "Jesus went there because He was fishing for souls."
Jesus was looking for people that He could minister to on that day — and He had one particular person in mind. I believe this is an imperative message to His followers today because, as it was in times past, there are many people in the world that are despised, rejected and forgotten.
Many churches today have disregarded large portions of their cities or towns. These forgotten people might not live in the best neighborhoods and they might be skeptical of Christians and our message, just like the woman at the well.
We must go to them!
Let's take a look at three great verses from our passage (7-9, NKJV): "A woman of Samaria came to draw water. Jesus said to her, 'Give Me a drink.' For His disciples had gone away into the city to buy food. Then the woman of Samaria said to Him, 'How is it that You, being a Jew, ask a drink from me, a Samaritan woman?' For Jews have no dealings with Samaritans."
Jesus did not judge this woman. Rather, He simply saw her as one who needed the "living water" that He would go on to tell her about. Jesus saw this woman not as being part of a despised people, but as a soul in need of the Savior.
Simply by speaking to this woman, Jesus acknowledged her worth.
You and I see people like the woman at the well every day. We encounter people in our daily Living Letter lives who do not know Jesus and, quite sadly, we all too often do not share the Gospel with them. We must acknowledge people's worth so that we can ultimately tell them about the "living water" that Jesus offers.
All too often, I am afraid we are not fishing for souls the way we should. In terms of fishing, here are Three Guidelines we, as followers of Christ, can observe:
If you don't go to the water, you can't fish. We must go where people do not know Jesus. This is a key theme of our church plants, as our pastors and church planting teams go into largely forgotten areas of cities and towns to show the love of Christ to people who are in such need of His love. Jesus went to the reviled Samaria with the intent of meeting this woman and showing His disciples that His love was extended to all.
If you don't cast your net, you will catch no fish. I recently read a study that found that only one percent of churches today are growing as a result of reaching lost people. That's shocking. We must be about the task of reaching out to people who might not look like us or who might not eat the same things we eat. God loves them as much as He loves us and we need to be casting our nets wide into a sea of people who need Jesus.
Understand the fish. Jesus listened to this woman and He was kind to her. This captured her attention. Our hearts need to be attuned to people's needs so that we can help them with their physical needs. THEN we can begin to show them their spiritual needs and tell them about Jesus. This is so important — we must love people before we can have effective ministry to them. Jesus was our great example here.
What was the result of Jesus' conversation with this woman? She believed. Not only did she believe, but she hurried back to her home to tell others about what Jesus had done for her.
What a beautiful picture of Jesus making disciples. This is our calling today, dear friends.
We all have a story to tell regarding what Jesus has done for us. We need to be launching out in faith to tell our stories so that people will come to know the Savior.
This is why we continue to plant churches, to train pastors, to distribute Bibles, to preach the Risen Christ on television and over the Internet, and to go to places where other ministries have long forgotten. We love people and we want them to drink of those eternal, "living waters" that only Jesus offers.
Because you care about people, we continue to reach many lost souls for Christ. We are making disciples and impacting eternity because you care. Thank you so much!
Your friend in Christ,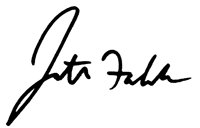 Jonathan Falwell